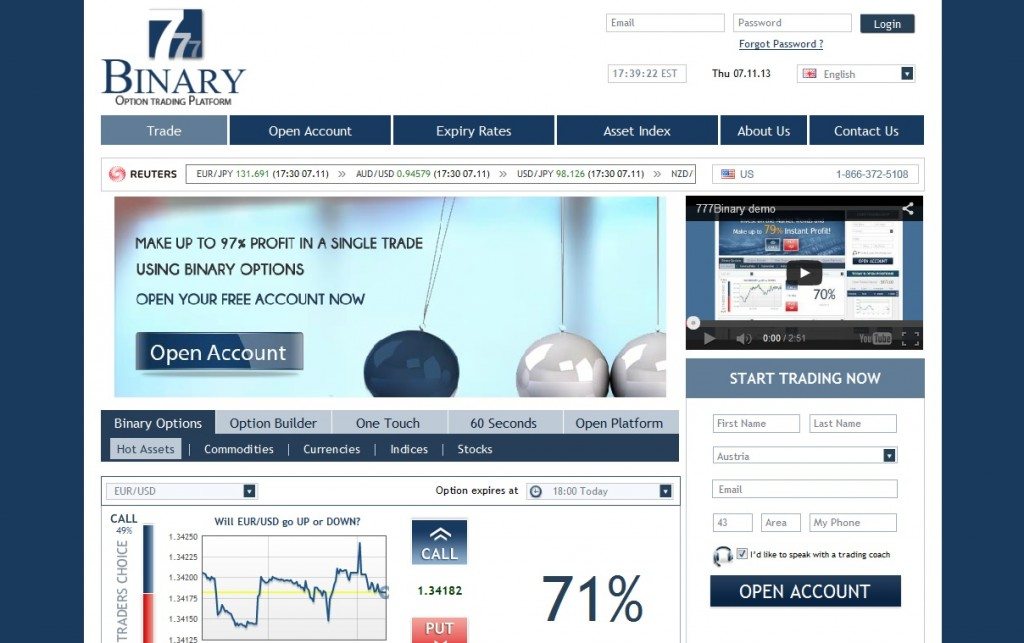 WHY IS 777BINARY NOT SO GOOD?
As a new trader, you might want to try demo accounts for brokers. 777Binary has a demo account, but the sad part is that its demo section is "unclickable." Besides the fact that the demo account needs to have a demo account and a platform video tour, its page does not load at all. Thereby, you will surely have a bad impression at it. You will also find out that almost everything in the site is hard to load.
WHY IS 777BINARY GOOD?
One thing that works in its site is its live news feed. Another thing is that it uses the reputable SpotOption platform. It is easy to use and quite reliable. It has a wide asset range up to 82 assets. This means that traders can have a wide variety of choices. You will also find that you can find its real time charts with the probability of putting more technical indicators. Yes, this is a plus for 777Binary because not a lot or brokers provide technical analysis options or tools.
A FULL REVIEW ON 777BINARY
To say the least, 777Binary is quite disappointing. It is hard to note that it does not bring anything amazing to the industry. What is even hard to accept is the reality that a lot of things are non-functional or not functioning as they should be. Now where should this review start? Well then, at least it has its up to date market review to brag about. But still very disappointing because its up to date is not up to date because the latest post was 2012. What is also messed up is its FAQ section. You get wrong answers with the questions. Now how is that for a broker?
The makers did not actually put any effort in editing their site that means they are not serious towards providing their clients with the best service. What is even more horribly surprising is that they offer strange or close to possible payouts. They advertised 97% payouts on their page, but their video about it says 75%. Now which should you believe? This will surely confuse you. If really want to make sure about its services, it has a Customer support area that comes with live chats. However, to add insult to injury, it is always offline! The website seems like it is not sure about its service and is not interested in making money.
777BINARY: SCAM OR NOT?
Given the above details, 777Binary is on the top of the scam list! There is no evidence whatsoever that it can provide the right services to its clients. They site has no professionalism and functionality. Moreover, it is not regulated by any authority regardless of the fact that regulation is rare. When you look at its "About Us" section, you will see that it is owned and operated by a Cyprus company called Zonit Enterprises Ltd. However, when you search the company name it will show that Vip Binary is related to it, and this is not a known broker in the industry.
You can always check our recommended brokers by clicking here.