Every trader desires to earn more money so that he/she can have that ultimate vacation or buy that dream gadget or other stuff. Nonetheless, before success knocks on your door, you have sweat hard. With this, you need a good strategy to navigate your way through the trading arena. Once strategy that you can most likely use is Reversal Channel Binary Option.
HOW DO YOU USE THE STRATEGY?
The strategy's name speaks for itself. You can use the strategy based on your personal trading decisions. Its strength evolved around the thought of knowing reversals wherein channels are formed on its charts. This method only needs two easy Metatrader indicators known as the CMA indicator and the TMA or Price border indicator.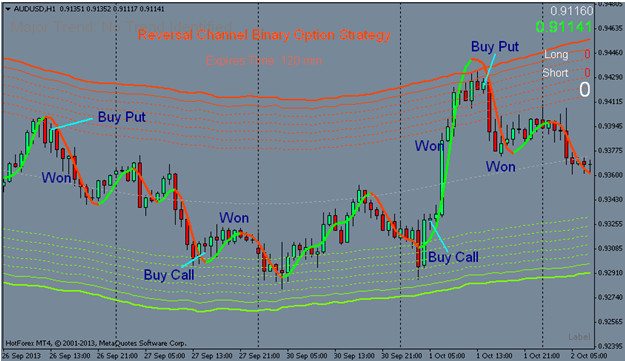 You can use the price border indicator to know potential reversal places, as well as channels. This indicator's lower bands are green which means bullish and higher bands are indicated in red which means bearish. CMA indicators run through charts either reflecting red or green. It actually acts like chameleons having 2 colors that depend on market situations. Both indicators need to agree so that you can open trades. For you to buy a Call, you have to confirm if prices has crossed over the Price Border indicator's green bands and when CMA indicator has changed green. After so, you can then put calls at the next bar's open. Conversely, in buying a Put, you have to make a confirmation that prices have crossed the price border indicator's red band and that the CMA indicator has turned red. After this, you then place Put at the next bar's open.
The good news is that you can simply download the strategy's archive with all its indicators necessary for the strategy. You can paste all .ex4 indicators in your trading platform's program files which are in the indicator's folder and then apply them to the chart and then they will appear. These indicators are specially created for Metatrader trading platform. Moreover, you need to paste the template file to your templates folder then re-open the trading platform. After this click on the chart and then select template and then finally click on reversal channel binary options strategy.
WHY IS IT BAD?
The fact that it shows false reversals make this strategy suck. Yes, indicators typically show fakes signals but this signal actually repaints which means that the indicators recalculate's its past price's behavior. Moreover, if you already have a trading knowledge., you can observe higher time frames in order to know existing trades including resistance and support levels. This actually helps limit repainting.
WHY IS IT GOOD?
It does not suck primarily because it is a combination of everything that you might like in an ideal trading system. It is also quite east to use, well presented and allows traders to properly interpret signals. Its best feature is that it provides the probability of promising profits with a hundred twenty minute expiry. Moreover, it can be installed easily on Metatrader platform.
FINALE
Overall, this strategy has a useful system especially when you can solve its repainting issue. Sadly, you cannot back test it even by scrolling back your charts. It may seem promising but when you test it out in live market, it can be very different. In its present form, not all traders can use it because it comes with advanced techniques that have to be used to lessen repainting indicator impacts. The best thing to do here is to try it out first and then find out if you are happy with it.