Trading 60 seconds is actually trading binary options with 60 second or one minute expiration time. It is very simple, you have 60 seconds to trade. You will lose your money if your trading is wrong at the 61 second but if your trade is right than you have jsut made a profit. This kind of trading is one of the most popular binary trading at the moment. But still you need to be aware that nothing is as simple as it sounds.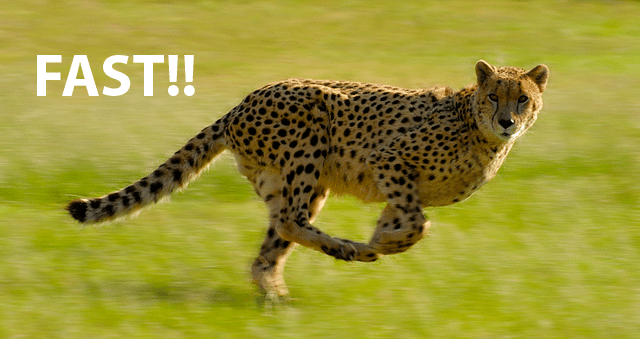 What you will learn here:
What are 60 seconds binary options?
What are important factors?
How to spot a potential 60 second trade?
Tips!
The biggest reason of the success that 60 seconds trading is having is because of the fast paced action with the ability to profit of returns of 70% or more, on average its 85% return of investment. The prices are all at high frequency because the expiry time is very short. You have to be very careful while trading 60 seconds because you have very little time to predict the trade. That's way it's recommended to use a demo account first before you decide to use real money.
Binary options broker and charting software are two of the most important tools you need to successfully trade 60 second binary options beside the right education. The best solution is to have a broker that is offering you a 60 second binary options and a software that will allow you to analyze the asset or instrument in which you want to deal. Another important thing is your speed, you need to be fast in making decisions with this kind of trading.
The software is used to find out the trend which actually means the general direction of the price in the market. The trend is definitely your best friend in a 60 second binary trading. In most of the situations, the price will continue in the same direction for some time. If the price is falling, it's called a down trend and if the price is rising it is known as an uptrend.
IMPORTANT FACTORS
It is important to consider a few factors before you decide to enter into these types of trades. The most important factor is to have a strong knowledge about the binary options trading platform. You should not put your money on a platform that you don't understand.
When you learn how to open, close and adjust the trades, it's important to test the platform's efficiency. This process is important in order to make sure that your platform is capable of executing you trade at the exact time and price you are expecting.
The last thing you need to know is the trading parameters themselves that will help you to form the basis of your trades. You need to know what are you trading, stock, currency, commodity or index and you need to know the expected price direction as well. It's recommended to have all of these parameters thought out beforehand because you will not have much time to change your positions.
FAST MOVING MARKETS
The 60 seconds binary trading system is the fastest way to make profits in any trading system but it's also the fastest way to lose your money as well. That's why risk management is very important in 60 seconds trading. The good thing is that you can trade in increments and this allows you to limit your risk in fast moving markets. There is a rule saying that you should not put more than 2% of your trading account into a position at any one time, especially when dealing with 60 Seconds options.
HOW TO SPOT A TREND?
The prices are shown as moving waves, use two trendlines and join the highs with one trendline and use another trendline to join the lows of the candles.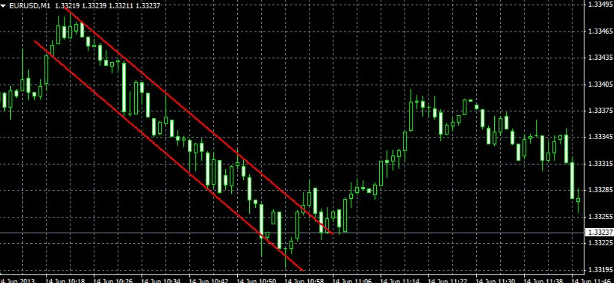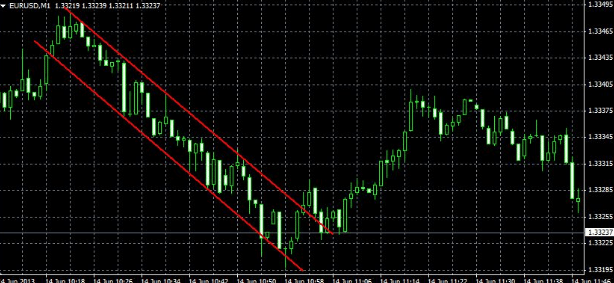 The picture above is an example of a downward channel for price action over EUR/USD 1 minute chart.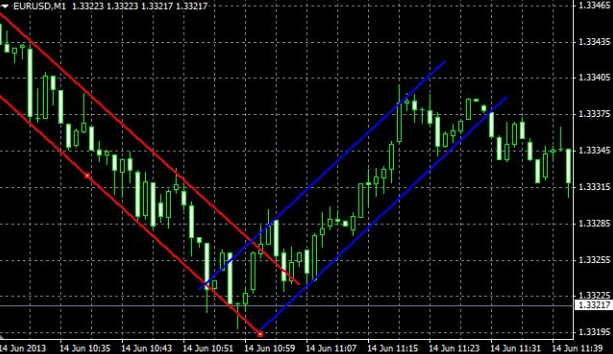 The picture above is showing an uptrend which is marked by blue trend lines in order to form an upward trending price channel.
The uptrend will end if the candle starts to close below an uptrend lower trend line. If the candle starts to close above the upper trend line will mean the downtrend has end. Spotting a trend is one of the biggest and most important tasks in 60 Second binary options.
As example, we will put a call trade in an uptrend only and when the price touches the lower trend line we will enter a call trade on our binary options trading platform.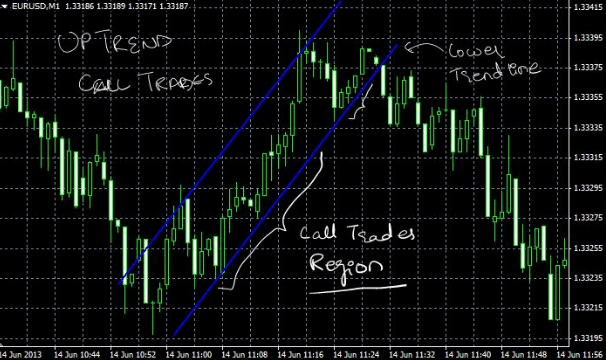 We will also put a trade in down trend only so when the price touches the upper trend line we will enter a put trade. It's important to always remember that prices moves like waves so you need to understand the pattern and when the price is ready to swing down or up again.
IMPORTANT TIPS
This kind of trading can be very rewarding to some people but new traders should recognize that they can also be more challenging and may pose a higher risk in some ways. It's true that you can make a lot of money very fast on 60-second trades but you can also lose them more quickly as well. The trades are going very fast and even some experienced traders can't manage to keep up with them or manage such small increments of time. That's why new traders should start their training on slower trades and then work their way up to faster trades.
The 60 second binary trading can be very addictive because they go so quickly. Many people get caught up in the excitement and not realize how quickly are spending their money. You should always try to stay on top of what you are doing and keep an eye on your account balance. If you find end up in a situation where you're losing more than you're wining, it's recommended to back off from the market, take a little break, figure out why you are losing, and then come back fresh.
If you manage to learn and master the 60 second binary trading, you have a big chance to earn a lot of money at lightning speeds.