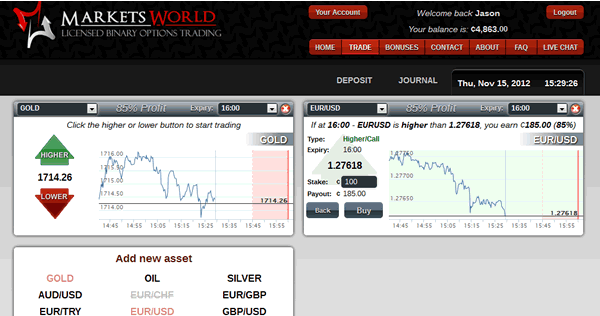 WHY IS MARKETSWORLD BAD?
To begin with, Markets World doesn't really suck. The fact that's it is more like a gambling platform than a trading one makes it suck a bit. When you enter its site, you can feel glamorous ready to bet big time. You will be welcomed with some images of luxury cars, yachts, and limos. You can surely imagine yourself walking on the red carpet. But, as good as it may seem, the site is promoting false hopes. However, reality is that many trades out their trade because they want to have everything in the site's front page. Some would even want a model wearing a glittery dress to go with it. This goes to show that the bad thing about Markets World is its gambling aura.
WHY IS MARKETSWORLD GOOD?
Honestly, accessing a free demo account would be a glorious feeling. Beginners would so happy with a real and free demo account. You can easily gain access to this free account by simply registering your name and email. Most brokers are hesitant to offer deposit free demo account for no reason at all. Think about going to a store to buy a shirt and you can't try it on before buying it. This has the same philosophy to not offering a free account. So Markets World is doing a great and practical deal by offering its demo account for free.
MARKETSWORLD: A FULL REVIEW
When you roam about its site, you will probably have mixed emotions about it. Firstly, Markets World has an aggressive style of advertising. It is really luring more people through influential images portrayal desirable items. Moreover, it is a regulated company. So why does it strive to advertise more? Well, it is regulated all right by the Gambling Supervision Commission of the Isle of Man. If you are really keen towards choosing your broker then, you will wonder what this regulatory authority is. This means that Markets World fully admits that it is more of a gambling company than a binary trading institution. As a client, your initial reaction would probably be to close the website and look for another option and not a gambling agency like this one.
However, second thoughts always work. Think about it – having regulated by a single agency is better than having no regulation at all. You basically do not have a lot of options because there are also many brokers out there that are not regulated by any authority at all. The good thing about Markets World is that you can withdraw your money. So you have a reason you can choose it as your broker, and it gives you a fighting chance.
Now let's talk about the site platform. It has a typical platform, but it is their original design. But it does not comply with industry standards. When you look at price graphs you will notice that there is nothing wrong with it but it has really small charts and a cheap looking platform. But is it a scam or not? Well, the fact that it is striving hard to evolve into a trading platform makes it seem so aggressive to draw clients. Read some reviews about it, and if you are convinced and get good results then it might not be a scam.
You can always check our recommended brokers by clicking here.