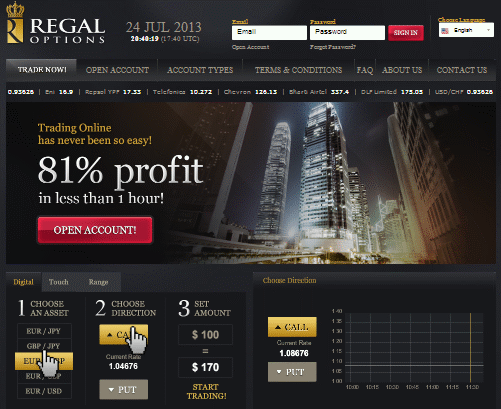 WHY IS REGAL OPTIONS NOT SO GOOD?
Regal Option does not appeal very much to new and old traders. It is just another white label broker, and it is not original. It looks so familiar with another broker called Cedar Finance that is also owned by its owning company called T.B.S.F. Best Strategy Finance. A lot of brokers are taking a short cut to assumed success making them typical brokers.
WHY IS REGAL OPTIONS GOOD?
The fact that it is regulated makes it quite good to deal with. The best factor that makes it good is that it is using Tradologic as its platform. This is a leading provider for binary options platform, and it has some of the market's coolest features. Plus, the site is secured with EU and CySEC's regulation.
REGAL OPTIONS: FULL REVIEW
Regal Options are basically a fusion of two brokers specifically Regal Options and Finoex. Its firm is based in France, and it is regulated by CySEC. As mentioned before, it uses Tradologic as its platform making it better than other brokers because this platform is the best in the world. The site looks good and well arranged. But when you first see it will look familiar especially when you have come across with Cedar Finance. The site is so easy to navigate, and the options are simple thanks to its convenient platform. Its useful options include One-touch, digital calls and puts, and Turbo options which are its 60 second trading option.
What makes Regal Option even better is that it has a complete asset list. It has some major indices globally. It includes twelve commodities including sugar and coffee. It also has thirteen major foreign exchange pairs and has over a hundred stocks. You can trade at Regal Options twenty four hours, seven days a week depending on what asset you and type of options that you are using. Its payout ranges from 75 percent to 81 percent for typical digital positions. But this can be higher for range and one touch options.
At Regal Options, its assets can be located at its scroll down menu on its side which is quite convenient. This might be a similar trade screen to what you see in average brokers. You can select low or high trade amounts and expiries. Other details you can see on the site are returns and trader sentiments.
Banking options in Regal Options are standard. You can make deposits through credit card, wire transfers, and through global money services. You can deposit through Skrill, iDeal CC, and others and these payments will immediately post except for wire transfers which may take up to five days. As for withdrawal, you may need to present more identification documents and this can take up to fourteen days for credit when it is processed. You will not be charged with feed for you withdrawal except for wire transfer which costs around $25.
REGAL OPTIONS: SCAM OR NOT?
It doesn't seem like it is a scam because it looks credible than other brokers in the industry. There is no clear evidence or activity that it is a fraud. However, Regal Options is still quite new to compete with other established brokers such as Cedar finance and Option Bit. It is however regulated by CySec thereby it is quite unlikely to be a scam. Nonetheless, regulation does not necessarily mean that it is the good but only trying it out can disregards any speculations.
You can always check our recommended brokers by clicking here.