This strategy is highly recommendable for amateur and professional traders. Newbies can easily follow its rules and trade it mechanically until they can get the right skills to know the reasons behind the strategy's rules. When you have reached the state of complete understanding you can then take advantage of your strategy.
HOW THE STRATEGY WORKS
For this strategy to work, you have to confirm the trend's direction. Moving averages can be very useful for it to work. In identifying trends, you go to the fifteen minute chart and look at the candlesticks and see if they are above or under 50- EMA and 200 EMA. In order to assure that the trend is not in a consolidation state or on the verge of changing direction, it is vital for you to know previous lows and highs. In locating lows and highs, you simply have to marl areas where the stochastic oscillator showed oversold and overbought levels. See if prices are stepping down and is below 50-EMA or 200 EMA. Your goal has to be finding these small retracements in the trend.
For call options you have to enter on higher lows and candlesticks have to be above 50 and 200 EMA. It must also be above oversold levels on RSI and Stochastic. For
Put options you can enter on lower levels and candlesticks have to be below 50 and 200 EMA. It also needs to have overbought levels on RIS and Stochastic.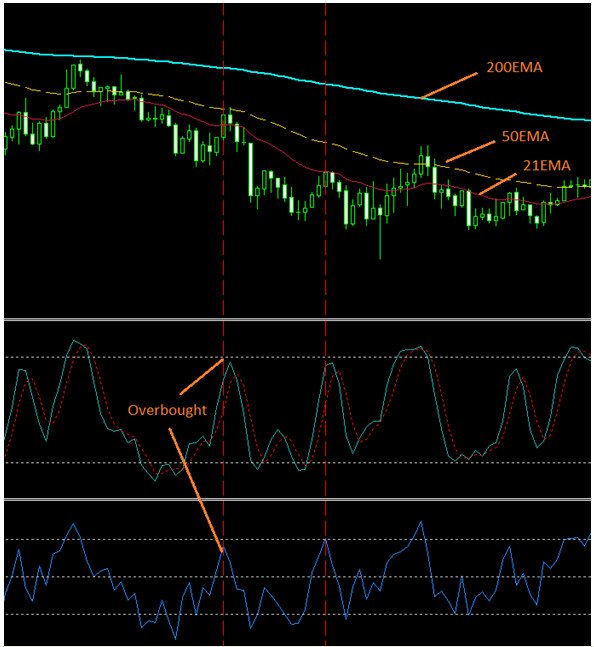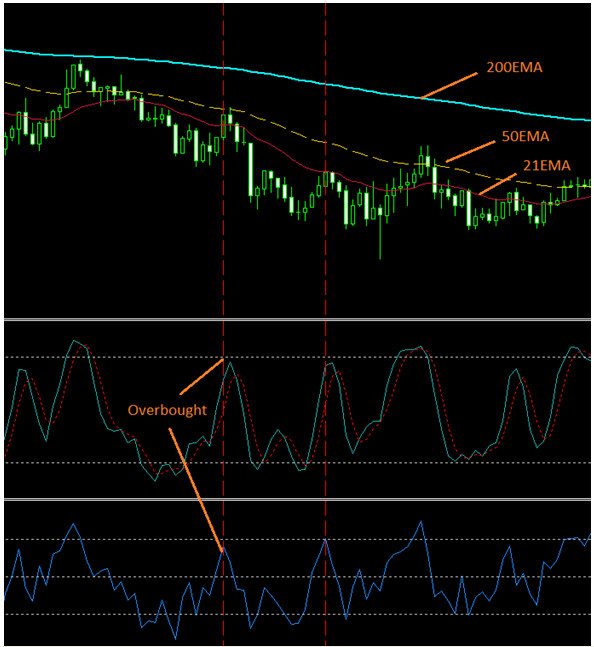 PICKING AN ENTRY AFTER CONFIRMING A TREND DIRECTION
The approach may differ depending on your experience.
Approach 1
The first method is for amateur traders who wish to trade mechanically until becoming skillful with it. for example, you are looking at candles forming a lower high and RIS and Stochastic levels are almost touching overbought levels. You have to allow current bullish market fifteen minute candle to close and then confirm the retracement's end. To make sure that the bullish move is done, you have to change to the five minute chart and observe if a five minute bearish candle is forming.
Approach 2
The second approach can be used by experienced trader who have fundamental candlestick knowledge and knows how to make use of price actions. You can also use this if you are great at drawing S/R lines and you are familiar with market volatility. Thus, despite of waiting for a five minute bearish candle to be formed, you can have more accurate entries by shifting to the one minute time frame and then drawing the S/R lines. Put in mind that the M5 and M15 needs to be overbought.
WHY THIS STRATEGY IS BAD
It is not very surprising that this strategy will not work at any market set up. But no strategy actually works in just any condition. The issue here is patiently waiting for the right market conditions to straighten up. This may take some time and there are days when you cannot trade anything. This is because the market is not stepping into any direction but it volatilely jumps in various resistance support areas. Moreover, it can be rather hard for novice traders to have promising entries.
WHY IS THIS STRATEGY GOOD
The strategy does not suck because it offers the right amount of confirmation to encourage the trader to make a trade. Additionally, the rules are so easy to follow and it can even teach you trend identification techniques. With it, you can practice on your skills of price action.