Following recent slump in US equities, generated by the rising tensions between the US and North Korea, which culminated with the latest missile launch over Japan by the communist regime, the Dow Jones managed to find support again around the 21680 and begun to trade impulsively higher.
US fundamentals supporting the recovery
Options trading activity might had been very high lately as the bulls were driving the index upward impulsively. It looks like optimism begins to rise again as economic activity in the US does not seem weak, with the latest GDP preliminary release point towards a 3.0% increase in the second quarter of this year.
Also, corporate gains had been strong, exceeding analysts' expectations, support the Dow upward current long-term upward leg that begun after the election of Donald Trump as president.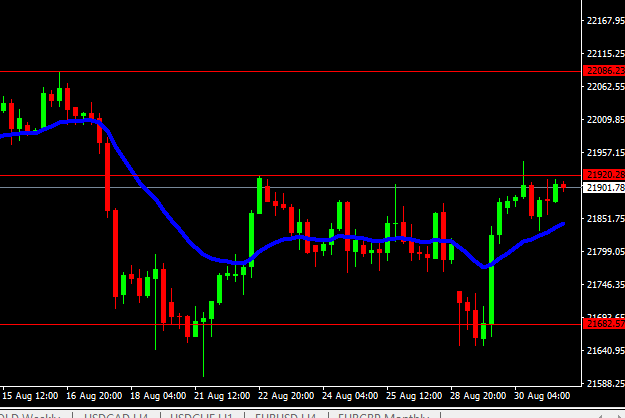 So far the Index found resistance around 21920 area and options trading could be intense there since the area capped the upside on August 23rd as well. If the bulls will manage to overcome that obstacle, the price could continue head towards 22.080 figure, where selling activity might intensify again as the area had been the starting point for the previous bearish leg.
If 21920 will cap the upside, range trading will prevail and the price could head lower again towards 21680, where the bullish leg started.
Also, keep in mind that today and tomorrow there are some new economic indicators due to being released from the US, culminating with tomorrow's Nonfarm Payrolls and Unemployment Rate, which, as usual will generate high amount of volatility.
The development of the current relation between the US and North Korea could also continue to have a huge impact on the Index price as selling activity intensified each time bad news came out.
To sum up, considering that the Index had been trading impulsively for a few months in a row, we expect buyers to treat every price deep as a new opportunity to get long so the upside trend should continue for the short-term horizon. So far, the Dow had been one of the best performing indexes and it should continue to be that way.