The production of much more powerful smartphones has made the transition from the home-based to mobile binary options trader much easier. This means that regardless of the location, traders are available to monitor their positions wherever they are they have the ability to spot new opportunities, without the need for a wifi or fixed internet connection. That's why binary options brokers are starting to invest in high-tech mobile platforms and web apps in order to offer a better service to their customers.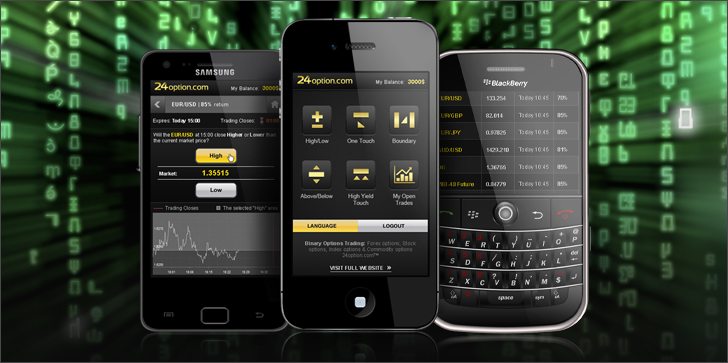 What you will learn here:
What to look when choosing mobile platform?
Should you trade binary options from mobile?
What are advantages of mobile trading?
What are disadvantages of mobile trading?
Android vs iphone apps!
App trading!
There are many trading platforms that offer a mobile version of the binary options trading. The smartphones are in trend now and the binary trading services are trying to keep up with it. The great option that people have with mobiles is that you can trade binary options at any time from wherever you are. With the newest generation of Android and iPhone smartphones and the real time technology they offer, your possibilities are endless. The mobile trading has lots of advantages but a couple of disadvantages as well.
WHAT TO LOOK WHEN CHOOSING MOBILE PLATFORM
Now we have figured out that you are in the right spot of trading over mobile, so even if you work there are no excuses why you could not even take on a trade that shows positive return.
If you are in constant motion this is defineatly something that you need to take a closer look at and take your decision on what is the best for you. When choosing the right mobile platform for your trading its a must that you take a look at the following:
Is the app slow or the speed is ok because timing is important in trading. So you have to take a look when you click something or invest that the app is responding quickly enough for you.
Defineatly check how are the charts looking, can you zoom it in, is it functional enough, if you turn the phone sideways can also zoom the chart aswell. When you need toa ccess certain infromation, is it easy to do so.
Since mobile tradingis different some brokers also offeridifferent time frames, expiry times for that, so you better make sure if that fits your needs
One of the most important things is how stable the platform is, does it crash or freeze because if it is doing that then you are going to have bad time trading and miss the opportunity when it comes.
SHOULD YOU TRADE BINARY OPTIONS WITH YOUR MOBILE?
Because of the simple platform requirements, binary options are very easy to trade with using a mobile. There is no need of so many functions and the binary options platform is very simple. The only thing you need is a chart and details about selected options like payout, date asset and similar. Mobile trading and PC trading is not that different, you can comfortably trade with your iPhone, iPad or Android smartphone.
The newest generation of mobile phones is offering screens which make movie watching viable but also, importantly for binary options, trading and chart analysis. Many traders decide to follow technology and use this revolutionary way of trading where you no longer have to sit at a home PC or laptop to monitor your positions or wait for the perfect setup. You can easily do all the things required directly from an android or iphone application as if it was a computer.
There is an answer for those who need slightly more detailed charting than many binary options brokers currently provide and the answer is the recent innovations in highly-mobile tablets. The trading apps are only developed for iPhone or Android based mobile phones. You can't trade with your Android smartphones if your broker only offers an iPhone app. But there is an answer for this problem as well. Some brokers offer web-apps which work directly in your browser and are independent of the operating system. Which means that you will not have a problem with your mobile phone operating system as long as is an smartphone and not just a 10 year old Nokia phone, you can trade binary options with it.
ADVANTAGES
The flexibility is a huge advantage because you don't need a static PC anymore and you don't have to bother looking for an internet café on the go. You have the option to trade binary options wherever you have mobile reception. It can be as simple as opening a position on the taxi and close it in the restaurant.
Almost all of the binary option brokers offer mobile trading and there is no need for creating a new account. You can also open a demo account on your mobile as well. The mobile screen is much smaller than the PC but mobile applications are very user-friendly and you can still make in-depth analysis.
The mobility is another great advantage as well because your mobile is with you any time and anywhere.
DISADVANTAGES
If you're stuck in an elevator or on a train, there is a possibility of GSM dead zones which means that you will be disconnected and in a critical situation, this can be very frustrating and might even cost you money.
The speed of the app might not be the same as the speed of your PC. The internet on your phone can becostly, ask your mobile phone provider for more information in order to void unpleasant surprises.
ANDROID VS IPHONE APPS
The iPhone is not the world leader in the mobile world anymore but it's still the widest spread mobile on the market. It has the best technology and always sets standards. Every iPhone uses the same operating system, the iOS. The system is very easy to use and navigate as well and this makes iPhone unique and better than other smartphones available. Trading with your iPhone is very easy as well and that's why it's recommended to use a broker that offers a native iPhone app.
The android system can be used by many mobile-phone producers and it's distinguished from the iPhone. The android system can be found on mobiles made by Samsung, HTC, Sony Ericsson and similar. Android is also the market leader in the mobile operating systems. The real advantage that android has over the iPhone is distribution. The android phones are very similar to the iPhones when it comes to trading binary options. The android system is more open to external software like "Adobe Flash" and that's why easier to trade binary options with an Android smart phone.
APP TRADING
You can purchase every standard app using the iTunes Store or the Android Market. These types of app that can be purchased on iTunes and Android market are known as native Apps and they are developed for different operating systems. But there is also another type of apps called web-Apps that work through the smart phones browser. You don't need to install the web-apps and they can satisfy the same need as normal apps. Websites with a web-app built on are made to load automatically without taking over another step. That's why modern brokers try to avoid developing different apps for different mobile operating systems. They often decide to optimize their trading platforms to a web app which is much simpler and less complicated.
As an example of a broker service that offer both web based app and iPhone and Android apps is Anyoption. You will definitely have a great trading experience at Anyoption, no matter if you're using iPhone, Android or iPad.
FINALE
As you can see we have covered every aspect of mobile trading. It is a very good alternative when you go on the road and you need to check on your trade, close it or open new one. But for everything else i would still suggest desktop trading over mobile just because of easier access and better visibility.