For the last three days the US dollar had been under huge pressure, first, due to Jackson Hole Symposium, where Fed Chairman Janet Yellen hold a speech. The market turned bearish after her statement since she had not mentioned not a single word about the future developments of monetary policy. Not even her whole 16 pages statement, which was published after the speech, did not had any mention about it.
Dollar slumped as the market is not pricing in a smaller probability of a new rate hike from the Fed until the end of the year. Option trading activity had been intense for the last few days as volatility had been very high.
North Korea launches a new rocket
The second most important cause of recent dollar weakness is represented by the latest North Korean missile test, which is supposed to have reached Japan. As political tensions had risen again, safe haven currencies are the ones favored, since investors are running from risks assets and trying to find a safe placement for their money.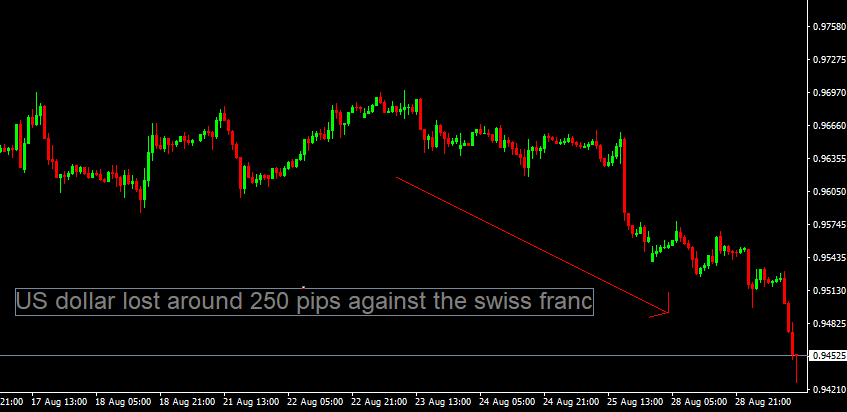 Looking at our chart above, you can see that the US dollar had been under huge pressure lately. Option trading activity on the downside might had been very intense lately, since the bearish leg that is still under development is the most impulsive one.
If the political tensions will continue to escalate further, the swiss franc might be favored for the short-term horizon. That is very likely to happen since the situation had been critical for a few months now.
Also, the current economic development from the US had pointed towards a slowdown. If you combine that with the lack of trust the market begins to have on Donald Trump's campaign promises, you have an environment where the US dollar should perform very poorly.
Latest headlines point towards a new meeting of UN Council, scheduled for tomorrow, which could draw another sanctions against the regime in North Korea. Risk aversion should be low until this tense situation finds a solution.
Risk Warning and Disclaimer
Trading foreign exchange on margin carries a high level of risk, and may not be suitable for all investors. The high degree of leverage can work against you as well as for you. Before deciding to invest in foreign exchange you should carefully consider your investment objectives, level of experience, and risk appetite. No information or opinion contained on this site should be taken as a solicitation or offer to buy or sell any currency, equity or other financial instruments or services. Past performance is no indication or guarantee of future performance.