If you are an advanced trader then you can surely appreciate this system since it makes use of numerous trading techniques such as the candlestick trend continuous signals. At first glance you might think that this is another one of those many unreliable trading strategies out there. But this is not the case with this strategy because it makes use of candles and trends. It even includes many other indicators such as moving averages and MACD.
KNOWING MORE ABOUT THE CANDLESTICK TREND TRADING STRATEGY
The Candlestick Trend is a trading system for forex. This trend following system includes great techniques that you can conveniently use. It makes use of 2 time frames the 4H charts and daily charts. It also includes MACD and moving averages that comes with Meta traders Pattern Recognition Master for signal generation. You do not have to worry because its website has all downloads that you will need. You do not need to have a Meta Trader in order to benefit from the system. All you need to learn is to know how to identify candle patterns.
For signals to be generated, you have to begin with charts with daily bars. When there are bullish daily charts you can trade calls. You trade puts if daily charts are bullish. Bullish charts generally have upward trends with a bullish moving average and MACD. When this happens you can go down to 4H charts. On 4H charts you then locate bullish signals which may be bullish MAs, bullish MACD, and a candle signal that is also bullish. This is also true in an opposite direction. Bearish signals begin with bearish daily charts. These are then confirmed by 4h chart's moving averages and MACD.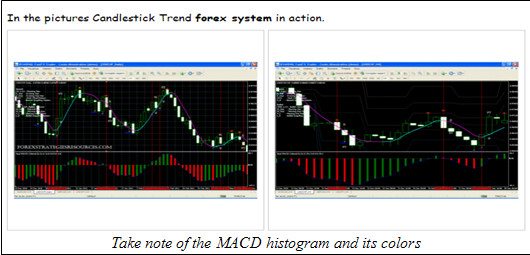 An important thing that you have to consider is MACD may be different in this charting system. It still shows a typical histogram but every bar changes its color. Green bars are for up days while red bars are for down days. It is considered a bullish signal when MACD bar becomes green whenever you are on a 4H chart. When it turns red it is considered a bearish signal. False signals and whipsaws are removed when you use 4H charts moving averages. Every MACG signal has to be established by the MA or moving average.
WHY IS THIS STRATEGY GOOD?
The Strategy is great because it makes use of great stuff in the trading system. It makes use of different time frames. It is also trend following and makes use varied indicators for signal confirmation. Moreover, it is very user friendly. The fact that it is trend following makes it easy to offer bearish and bullish signals. It is quite versatile and you can use it with just any index, commodity, currency pairs, stocks, and other tradable assets. Above all, it is simple to program to a trading platform such as Meta Trader.
WHY IS THIS STRATEGY BAD?
It is not so good because it is not perfect. It is a great system but there are just some minute details that provide its imperfection. Firstly, it is not highly recommendable for newbies. Intermediate and amateur traders can fully use this strategy and earn more profits when used well. For these reasons, you need to read the fine lines. You need to know what you are expecting and know how to fully use this strategy. Moreover, you must have a strong foundation with charting using candles for your trades to be successful. Otherwise, you can have the correct software to do the job for you.