Good news! It's not the end of the world and you can still trade Binary Options. Since the world is given another chance to trade why not improvise it? In order to achieve this, you have concentrate on the basic and technical market aspects. The internet is filled with technical aspect. Thereby it is sometimes best to go back to the fundamentals and learn more from it. With this, you need to rely on something that can give you appropriate news that can keep you well informed to be a good trader. Now let's learn how use a custom indicator.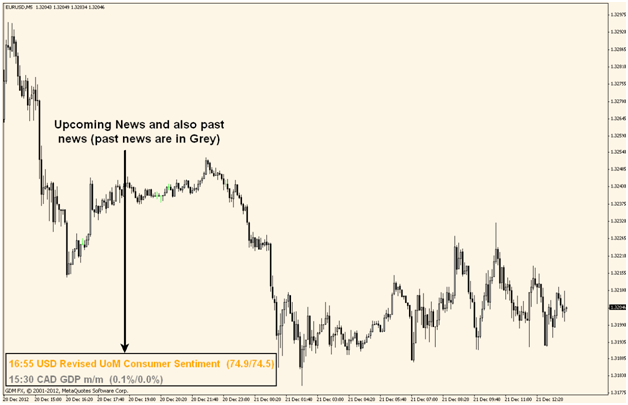 USING A NEWS INDICATOR
The news indicator can be your best trading partner. When you use the News Indicator you can be well updated especially because it comes with an alarm that alarms every ten minutes prior to its actual release. It also has another alarm that goes off five minutes before the release. This ensures you that you do not miss some vital trading information. The News Indicator may not show you clear directions using arrows and colors, it can still be considered as a great tool. This is an awesome tool especially when you have a lot of trade that technically look great. Another great thing about the News Indicator is that it directly displays vital events on your chart. You can control your trading urges until the release is done.
You can install this custom indicator on MT4 chart. These are actually the same steps as installing other custom indicators. Of course you need to download it from the website or from forums. You then have to copy it to the folder on you MT4 platform labeled "experts/indicators". Your full path may look like this – C:\Program Files\MT4 Name\broker\experts\indicators. When you have done this, close the platform and then reopen it. After reopening it you can then click Insert then Indicators then Custom then finally click News Indicator. You may have to adjust a few settings after installing it. You must click "Allow DLL imports." This actually gets the indicator to work.
WHY IS THE NEWS INDICATOR BAD?
The only big thing that makes the news indicator actually suck is the fact that you need to go through a long process just to install it. But just put in mind that making money requires a lot of patience and time. Yes, the News Indicator may be quite lengthy to install but when you have set it you do not have to do the process all over again unless you uninstall the MT4 platform or your computer is damaged.
WHY IS THE NEWS INDICATOR GOOD?
Using this indicator you can simply focus on what you need to do which is trading. You can look for news that can greatly affect your trading conditions. This indicator shows "Red" events with high impact that are up coming. However, you have to put in mind that this is not vital for knowing how the basics can affect the market. But if you are new in the trading scene then you can be overwhelmed by this.