Let us take a look at the famous cowabunga strategy that is used in forex but we should apply to binary options and this is what you will learn here in this article. We will show you needed steps and why is it good and even why is it bad. Let us start!
USING THE SYSTEM
Using a four hour chart, the system identifies major trends and then it will trade depending on the fifteen minute time window. This is how simple the Cowabunga system is. You will surely fall in love with it when you use it the first time. You can be amazed at how you will favor its numerous time frames and trend following. Cowabunga makes use of these two techniques which then results to higher win rates. However, you have to put in mind that this is not that ultimate tool that can turn you to a millionaire overnight. You need to have further knowledge about what it is and how to use it.
In order to know main trends you may need to use the 4 hour chart and you will need the following ingredients:
5 period EMA
10 period EMA
Stochastic with settings 10,3,3
RSI set to 9
You will know that Stochastic is going up, and its RSI is more than 50 when its EMA 5 is over EMA 10. According to the strategy the major trend is thereby UP. As for DOWN trend, it is the opposite.Here is how it should look on the 4 hour chart: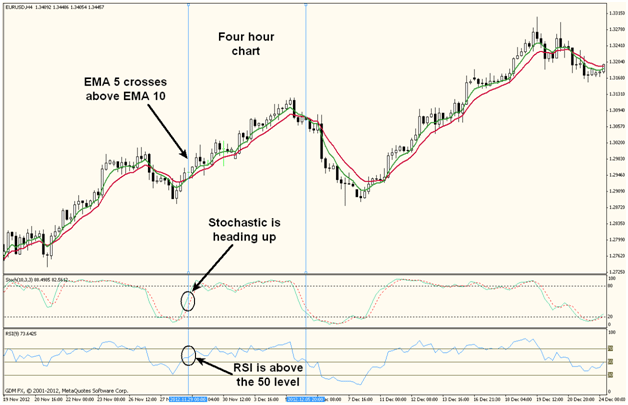 Once you have identified the major trend you can then go to a time frame that is lower so that you can have a better entry. Once there is an UP trend on a 4-hour time frame, you will look for longer trader on its low time frame. You can use the fifteen minute chart for this, and you can use the same chart. However you may need to add MACD.
You can then shift to a fifteen minute chart and locate a better long signal which is almost similar to what you identified to the major trend. You have to take note that EMA 5 has to be over EMA 10 and Stochastic has to be upward. As for the RSI, it needs to be more than 50.
WHY IS THE COWABUNGA STRATEGY BAD?
When you look at the site especially as a newbie, you will surely be awestruck with its numerous time frames. These time frames needed to satisfied including all indicators used. This means that it is no place for inexperienced traders because Cowabunga can be a bad weapon for the perfect a perfect trading jungle. Its biggest disadvantage is the fact that it is too difficult to use. It will somehow be appealing for amateur traders. Nevertheless, any trader needs to find his or her trading style that best suits him or her. What works for someone may not work for everyone.
WHY IS THE COWABUNGA STRATEGY GOOD?
It is sometimes advisable to go with the flow because it has a higher success rate. You have nothing to lose though when you go with the flow. Sometimes, time frames like one, five, and fifteen minutes become "noisy" and it can be hard to take note of a trend as compared to a daily or 4 hour chart. With the use of a timer frame of a higher level, the Cowabunga system sees to it that you can trade only at the main trend's direction. This is probably the reason why is it does not fully suck.
FINALE
The Cowabunga System is a pretty good system even though it is not on the topmost list of binary options brokers. Every day traders lose and win some cash. The only thing that makes a difference between traders is the strategy that they use, and if you use a good strategy like Cowabunga then you might be one of the lucky ones. The maker of the famous Babypips.com also made Cowabunga's platform, and if the former can be trusted then so is the latter. At the end of the day, it is always up to your decision making skills.