When you are new to trading it can be confusing when you see how many indicators and tools are available for trading. Some of them are good but some are also bad and not that good. That is why you can check here descriptions of top ones that would be recommended for binary options beginner. If you learn all of the below listed, it will definitely provide you with solid foundation for future trading strategies that are more advanced.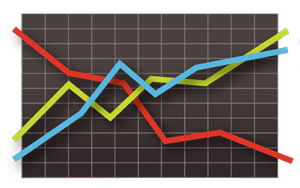 JAPANESE CANDLESTICKS
Candlesticks basic trading – Japanese candlestick are one of the best ways that you can view the charts and get an idea where it will go. It gives you the most information. It is more then hundred years old which means it will not die in near future. You can see that each candle represent where it was opened and closed and they are also colored so you can identify if the price is up or down. If you are not familiar with them, then this is a must read for you.
FIBONACCI TOOL
Fibonacci miracle trading – If you are not familiar with who Fibonacci is then i can suggest that you should leanr about it since it is very interesting. If we make this story short for you, he was a mathematician who has seen that nature around us was rules with a set of simple ratios. He found them everywhere around him in everything. His numbers are nowadays used to measure the market in several ways but most useful for new traders is definitely fibonacci retracement tool.  When you activate this tool on your charts it will show some good prediction of support and also about resistance based on the provided chart you are looking at that moment.
MACD TOOL
Moving average tool – There are many trades that are successful that use momentum for their trading profits therefore this is one of basics when it comes to technical analysis principals. This is definitely one of top tools if you want to meausre momentum. It utilizes two moving averages and then it measures the distance that is beetwen both of them. With this as we said you will easily identify also support and resistance and when to enter a trade.
TSF INDICATOR
Time Series Forecast Indicator – This many sound complicated but it is actually easy to use since it provides you clear signal for trading short term. But if you use this indicator and combine it with others it can become even better. THe indicator uses multiple linear regression which will show you the movement for future. A signal is simple as croosing above or below.
FORCE INDICATOR
Force indicator – This is an oscillator which was made by Alexander Elder.  He is a trader that is trading commodites and also a book author such as "trading for a living". This is indicator that showy you momentum but based on volume and direction. It can help you to determine support or resistance and also trend.
FINALE
You need to go through all of them in order to be a good trader that has a good base of knowledge. Based on these you can go into more advanced strategies later on. Also do not forget to join our community.